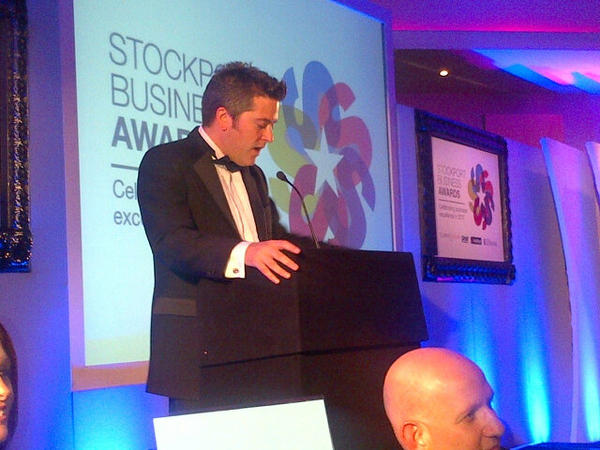 Stockport businesses were shining at the first Stockport Business Awards, held at the Hallmark Hotel in Heald Green yesterday evening. Over 200 people swept in to the plush black-tie event, including Paralympic medalists Craig Maclean,  Andy Kappes and Matthew Walker along with Stockport's own basketball legend John Amaechi.
I was there alongside Stockport Council Leader Sue Derbyshire and Council officers who were pointing out to me how many of the finalists had received help from the Council along the way, such as start-up grants or loans, or space in one of the Council's incubators.
It was great to see local businesses in my patch doing well, including Gatley coffee shop Coffee Fix and Cheadle Royal company GlasNovations
We also heard about some amazing Stockport companies that I'll bet most people have never heard of. NXP Semiconductors exports over 4 billion products a year from their Hazel Grove site. Oil and Gas Job Search, based in Reddish, have developed the leading job site dedicated to the worldwide oil and gas industry. WEMS make the world's only completely wireless and web enabled building energy management system.
Awards winners and runners-up

Business of the year (turnover £5m+)
Winner: Frederic Robinsons,  Runners up: APEM, APS Group
Business of the year (turnover up to £5m)
Winner: Oil and Gas Job Search,  Runners up; GlasNovations, Wilde Analysis
Most Promising Young Business
Winner: ToxicFox, Runners Up: GlasNovations, Pioneer Digital Solutions
Entrepreneur of the Year
Winner: Shirley Booth & Charles Orr, Runner up: Clinton Njie
Award for Innovation and Design
Winner: NXP Semiconductors,  Runners up: Frederic Robinsons, Millar Landscapes
Independent Retailer of the Year
Winner: Simply Books,  Runners up: Coffee Fix, Snobby Dogs Grooming Parlour
Award for Supporting Young People
Winner: Taylors Fish,  Runners up: DSG Financial Services, Jacobs Engineering
Best International/Export Trade Company
Winner: Trolex,  Runners up: Oil and Gas Job Search, NXP Semiconductors
Award for Most Responsible Company
Winner: The Businesses of the 4 Heatons Traders Association,  Runners up: Frederic Robinsons, WEMS
Special recognition award
Winner: Fred Finlay
Congratulations to Ben Poland and his team for putting on a fantastic event, which I hope will be the first of many.
(Photo courtesy of Pure Radio)